A Glorious opportunity for 11th and 12th class students in India

After class 12, major students in India think of engineering and medical courses. But, a majority of engineers are struggling for jobs. If they get a job, their salary ranges from Rs.15000 to 30000. BSc, Bcom, BBA students get a salary of Rs. 10000- 15000. On the other hand, if a student clears the CLAT exam in class 12, he/she gets admission to National Law Universities (NLU). Google, Microsoft, Apple, Tata, Reliance, Banks, and Insurance companies come to NLU and offer jobs starting with a salary of Rs. 80000 to 1.5 lac/ month.
---
A lawyer is highly reputed and the is highest paid job in the USA, UK, and Europe. Dr. Babasahab Ambedkar, Jawaharlal Nehru, Gandhiji, Mohd. Ali Jinnah had completed their degree in law and none of them were doctors or engineers. Why? Since the past, being a lawyer is highly respectable abroad.
NLUs are far better than IIT & IIMs. The average salary for NLU is 14 lac.
 Last year, one international law firm offers Rs. 36 lac salary per year at NLSIU, Bangalore.
100 to 200 % job guaranty
NLU is the best place for scholarships and recommendations for many foreign study programs where you will be offered salary/jobs in the USA and Europe.
UDX Press Release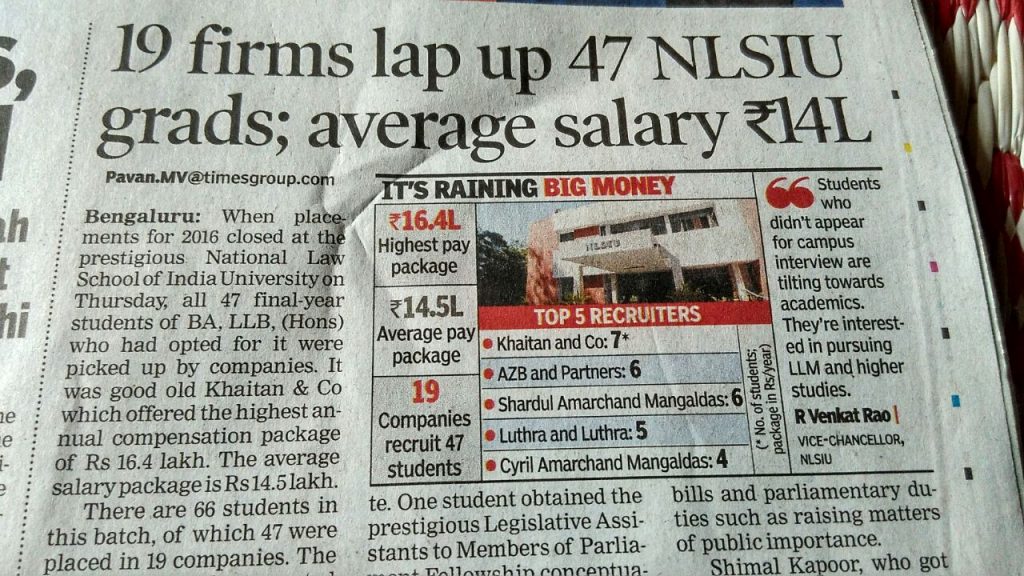 List of Top NLU Law Colleges in India
| | | | |
| --- | --- | --- | --- |
| NLUs In India | NIRF Ranking 2021 | NIRF Ranking 2020 | Seats (UG+PG courses) |
| National Law School of India University, Bangalore | 1 | 1 | 120+50 |
| National Academy of Legal Study & Research (NALSAR) University of Law, Hyderabad | 2 | 2 | 105+50 |
| The West Bengal National University of Juridical Sciences, Kolkata | 3 | 6 | 127+44 |
| National Law Institute University, Bhopal | 5 | 17 | 80+80 |
| National Law University, Jodhpur | 4 | 5 | 104+50 |
| Hidayatullah National Law University, Raipur | 7 | 7 | 187+84 |
| Gujarat National Law University, Gandhinagar | 6 | 7 | 187+63 |
| Dr. Ram Manohar Lohiya National Law University, Lucknow | 10 | 11 | 178+32 |
| Rajiv Gandhi National University of Law, Patiala | 8 | 10 | 196+44 |
| Chanakya National Law University Patna | 15 | Not ranked | 140 |
| National University of Advanced Legal Studies, Kochi | 14 | Not ranked | 68+59 |
| National Law University Odisha, Cuttack | 9 | Not ranked | 180+46 |
| National University of Study & Research in Law, Ranchi | 17 | Not ranked | 140+50 |
| National Law University & Judicial Academy, Assam | 12 | 16 | 60+30 |
| Damodaram Sanjivayya National Law University (DSNLU) Visakhapatnam | 11 | Not ranked | 120+24 |
| The Tamil Nadu National Law School, Tiruchirapalli | 19 | Not ranked | 120+18 |
| Maharashtra National Law University, Mumbai | 13 | Not ranked | 122+62 |
| Maharashtra National Law University, Nagpur | 20 | Not ranked | 120+20 |
| Maharashtra National Law University, Aurangabad | 21 | Not ranked | 60+32 |
| Himachal Pradesh National Law University, Shimla | 16 | Not ranked | 148+52 |
| Dharmashastra National Law University, Jabalpur | 18 | Not ranked | 120 |
| Dr B R Ambedkar National Law University Sonipat, Haryana | 22 | Not ranked | 120 |
List of Private Law Colleges in India taking admission through CLAT Score
Institute of Law, Nirma University, Ahmedabad
School of Law UPES Dehradun – School of Law University of Petroleum and Energy Studies
GITAM School of Law Visakhapatnam – School of Law GITAM University
VIT Law School, Chennai
ICFAI Law School, Dehradun
Presidency University, Bangalore
IFIM Bangalore – IFIM Law School
Sushant University, Gurgaon
IIL Indore – Indore Institute of Law
JLU School of Law, Bhopal
JLU School of Law, Bhopal
SRM University, Delhi-NCR, Sonepat
Shobhit University Meerut – Shobhit Institute of Engineering and Technology
Shoolini University Solan – Shoolini University of Biotechnology and Management Sciences
ICFAI University, Jaipur
ICFAI University, Sikkim
ICFAI University, Tripura
IMS Unison University, Dehradun